~ ing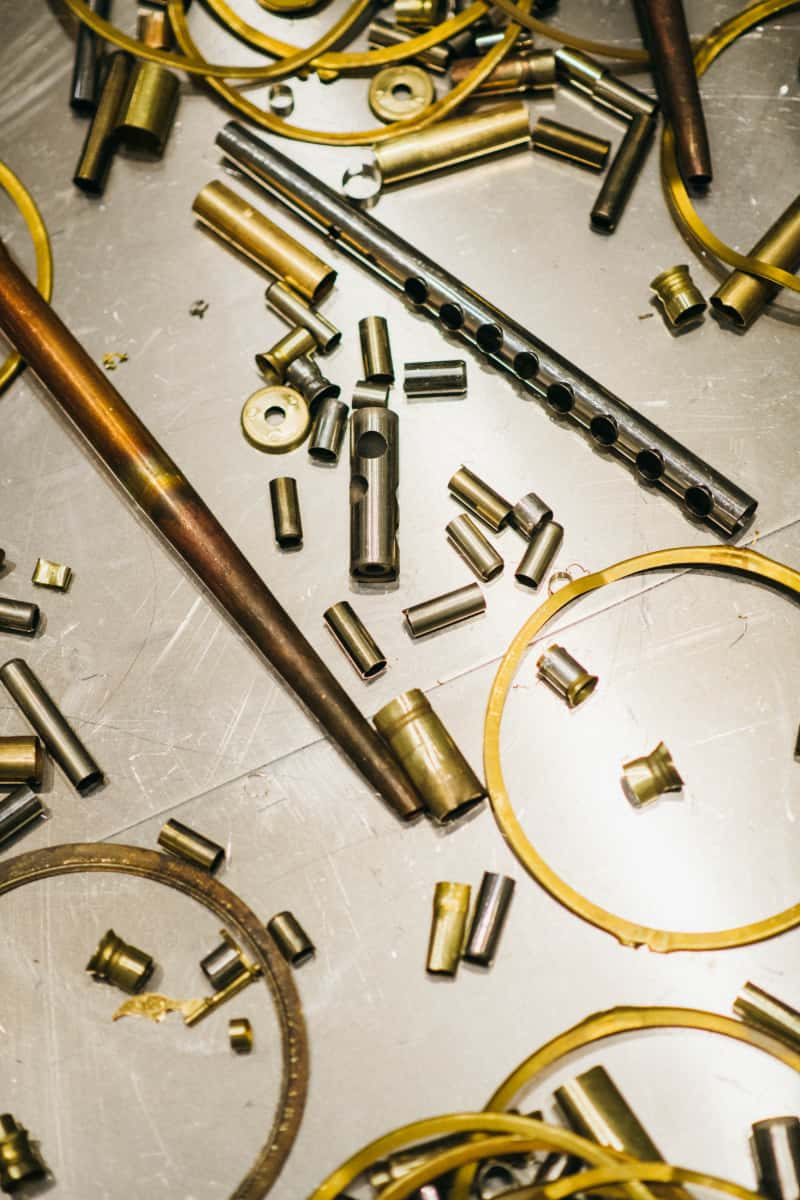 Sounds come into being, only to disappear in an instant. All endeavors that we call "music" arise, perhaps, from human beings' desire to apprehend these sounds before they disappear. Music is born out of our everyday lives, originating in the individual, ultimately returning to individual.
All human being on Earth, regardless of the society or community to which they belong, are implicated in myriad relationships: not just with other human beings, but with the non-human too. Recognizing both human and non hu-man activities, conscious of the interlacing relationships that exist between them, may well be the key to broadening the scope of our coexistence. Many phenomena in our ecosystem that overwhelm our everyday logic – climate change, earthquakes, radiation – seem to us both temporally and spatially unfathomable. The time and space contained in this exhibition, 〜 ing, belong to you. You may find the ever-changing environment hazy, indefinable to pit down with words. I hope the exhibition leads you to many such elusive encounters.
Shuta Hasunuma
OUTLINE
Duration

April 6 - June 3, 2018
Location

The Shiseido Gallery

Tokyo Ginza Shiseido Building, B1
Organized by

Shiseido Co., Ltd.

Supported by

Nakagawa Chemical Inc. Yamaha Music Manufacturing Corporation, WHITELIGHT
Curated by

Keiko Toyoda
Coordinated by

Toshi Shibata
Production staff

Yuma Maehara, Hiroki Nishioka
Photo

Event / Takehiro Goto
Talk event / Ayako Nagata
Installation view / Ken Kato
Exhibition Catalogue

The catalogue of "Shuta Hasunuma ~ ing" has been published from Shiseido Co., Ltd. You can purchase this catalogue at Shiseido Gallery.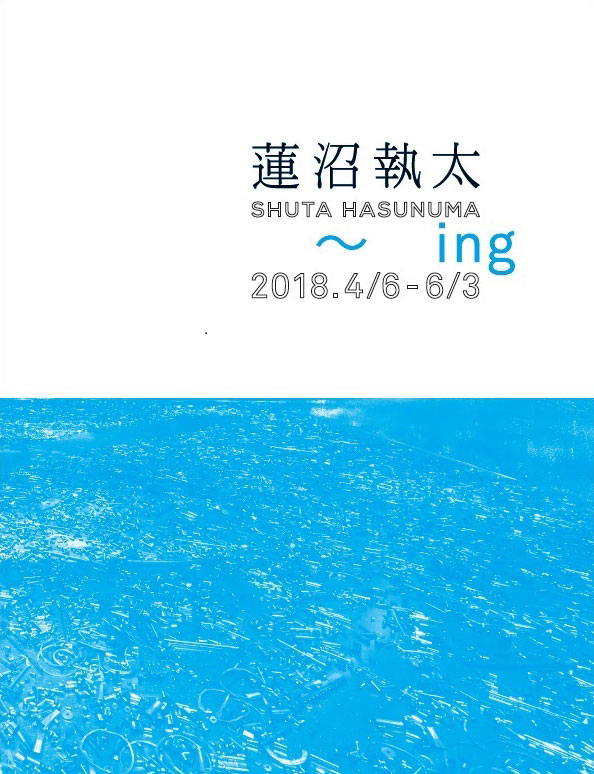 The Shiseido Gallery is pleased to announce a solo exhibition by internationally acclaimed composer and artist Shuta Hasunuma.
Hasunuma regards the modern era, with its many social issues, as a period of major change, and he also feels that the relationships between human beings and non-human entities (e.g., nature, technology, etc.) are in the process of being questioned. To that end, his starting point is to review the past, which requires reaffirming both his own past 10 years of musical activity and the work of others who've influenced him along the way. His suggestion is that placing past and present works in comparative opposition engenders the possibilities of discovering new perspectives from the past as well as creating new perspectives for future works.
This time, through a process based on the concept of identifying points of difference and commonality between past and present, and thereby tracking courses of transformation and change, Hasunuma will present video, sound, sculpture and other works in which he has extracted the key elements of his creative process, namely, fieldwork, collaboration, and phenomena. The exhibition will consider new relationships and coexistences among people, and between humans and non-humans, while at the same time composing works for exhibition to create a singular harmony. He will then attempt to bring all of the sounds existing in the space together into a single piece of music. The exhibition title, " ~ ing" is a composite of the symbol " ~ " representing the relationships connecting things (human beings) and the syllable "ing" representing the progressive form and as a component of the words "thing" and "being."
Since opening in 1919, the Shiseido Gallery has been actively engaged in "discovering and creating new value," just one part of Shiseido's broader corporate mission to "We inspire a life of beauty and culture." Through music, a medium that has always enriched people's lives, Shuta Hasunuma is attempting to discover new perspectives on society, and we hope that as he creates his exhibition here at the Shiseido Gallery, where diverse people meet and intersect regardless of age, gender, or nationality, it will serve as a catalyst for all of us to re-appreciate and re-affirm music.
Opening Performance

Date

April 6, 2018

Venue

Shiseido Gallery

Talk event

Shuta Hasunuma × Midori Matsui (art critic)

Date and time

May 9, 18:00-20:00

Venue

WORD Shiseido

Open Rehearsal

Shuta Hasunuma Full Philharmonic Orchestra

Date and time

May 27,2018 15:00-17:00

Venue

Hanatsubaki Hall

Performance

Shuta Hasunuma, Shuta Ishizuka, itoken, Yoshio Otani, Toshihiko Kasai, Misato Kinoshita, K-Ta, Utena Kobayashi, Tomohiko Gondo, Ryosuke Saito, Jimanica, Hiroki Chiba, Eriko Teshima, Natsumi Miyaji, Chiaki Miura, Kyoko Ikeda, Tadashi Ishikawa, Tsubasa Uchida, Erika Kohno, Kazunori Suguma, Gamme Takiguchi, Kenta Tanaka, Tomoya Matsuura, Ryotaro Miyasaka, Chiaki Yokoyama

Production

Ryoichi Kiyomiya

Stage Director

Megumi Sato

Production Support

Takashi Watanabe

For this event, the current Hasunuma Philharmonic's 16 members are joined by 10 new members for a open rehearsal as the "Shuta Hasunuma Full Philharmonic Orchestra," the first rehearsal toward a summer large-scale symphony performance for August 2018.

Performance

Shuta Hasunuma × U-zhaan

Date and time

June 1, 2018 19:00-20:00

Venue

WORD Shiseido
Walking Score in Ginza

2018
Video, microphone
39 min.10sec.

The artist recorded the latest installment of Walking Score – a series previously produced in Aoyama, Beijing and New York – in the streets of Ginza. In this work that revolves around field recording, the artist walks along the streets near the venue, collecting sounds by dragging a microphone. Although Ginza takes on a different air depending on the time of day, the same microphone – the one exhibited at the stairs – was used for both daytime and nighttime recordings. The artist becomes involved with the city and its people by towing the microphone that picks up the percussion-like sounds of the street. The work is on display at the stairway in Shiseido Gallery, recalling the stairways at Ginza subway station where the microphone was also dragged up and down. This is the sound and the video work of this "performance" that took place in town.

Ginza Vibration

2018
Video, environmental sound

This work delivers the outdoor vibrations of Ginza straight into the venue at Shiseido Gallery. A microphone and camera have been set up in the rooftop Shisei Garden (closed to the public) at the Shiseido Ginza Building on Namiki-dori. The video stream on the roof is projected onto the gallery floor, while the sound is played through four speakers hung from the ceiling, bringing the daily changes that take place in Ginza to the underground gallery space in real-time.

Thing 〜 Being

2018
Metal instrument parts, mirror sheet, aluminum plates
Support: Nakagawa Chemical Inc., Yamaha Music Manufacturing Japan Corporation

This installment of Re-model – a series in which musical objects such as instruments and records are taken apart and reassembled – has been specifically produced for the exhibition space at the Shiseido Gallery. Strewn across the floor are pieces of metal left over from the process of building musical instruments. The room's four walls are covered in mirror sheet, expressing infinite space. The viewers hear the sounds caused by their own feet as they come into contact with the metal parts, and see their own reflections in the walls as they engage with the artwork. This work thus converts human presence into sound, allowing viewers to visually and audially perceive their relationship with objects – here the instrument parts – and with the other museumgoers.

Change

2014–2018
Video (15 e-mails)

In this project involving e-mail, Hasunuma first collects environmental sound, then searches for images of its recording location on Google, selecting one out of the search results. He then e-mails a group of people simultaneously and sporadically, attaching to each message the audio file and the corresponding image. The screen in the gallery shows images of these e-mails in turn, displaying each for the duration of the field recording; other than the attached images and sound files, the only information contained in the e-mails is the respective dates and locations. Unlike with letters, one can send text, images and sound all at once via e-mail, and to multiple people. This work addresses such changes in technology and in modes of communication through this recurrent and almost diary-like approach, bringing together elements such as time, space, reality and fiction.

We are Cardboard Boxes

2018
Mixed media

From inside the boxes, one can hear music that Hasunuma played using cardboard boxes. The percussive sounds add spice to the sound inside the whole space. This unexpected music pouring out of cardboard boxes, which are piled up like luggage, will prompt communication between people and inspire thinking about objects.

Tree with Background Music

2018
Tree, speakers
Support: WHITELIGHT

In this experimental work, music flowing out of speakers is used to shake the leaves on a house plant, giving visual and symbolic form to music.

Music for ~ ing

2018
Music
17min.15sec.

Vibration speakers have been installed inside the small display windows by the entrance to Shiseido Gallery on Hanatsubaki-dori. The vibrating glass conveys music – composed from the sound materials used in the exhibits – out into the streets.